Art scene in Myanmar: Meet 3 artists
04 Nov 2014

Gallery
One East Asia
15 Scotts Road #05-08
Thong Teck Building
Singapore 228218

1:00 pm
Nil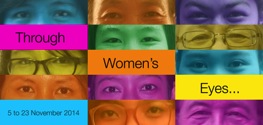 This event is for Members only.
Kindly register if you plan to attend.

FCA members are invited to meet three of the five Myanmar artists who will be featured in "Through Women's Eyes," a group show curated by Intersections. The exhibition addresses concerns of a group of women artists triggered by the present time of transition in their country following the end of military rule in 2011, which brought with it great expectations and countless risks.
Myint Myint Tin and Nann Nann are painters while Phyu Mon uses photography to express her feelings. The aesthetic nature of the artworks modestly conceals the conceptual character behind the work of this group of artists who have never ceased to question the role of women in Burmese society in their practice. Through these women's eyes, we catch a glimpse of a better world in which the future would be built without erasing the past, and where tradition and modernity would be reconciled.
MYINT MYINT TIN
Born in 1944, Myint Myint Tin graduated in Physics from Yangon University in 1968. From 1964 to 1968, she was a member of the Art Club of her university and studied painting under the famous Burmese painter U Lung Gywe, She was one of the first women artists to experiment with abstract and conceptual art and participated in many exhibitions in Myanmar, Thailand and Singapore. Besides her own artistic activity Myint Myint Tin contributed to the art scene as a gallery owner and through her support to the younger generation.
PHYU MON
Born in 1960, Phyu Mon is a well-established artist, who graduated from Mandalay, majoring in Burmese literature. Since she was a teenager she has been writing poems, short stories and painting. She studied painting under the Master artist U Ba Thaw, and video and film production through a program from the university of Finland. Today she is a versatile artist, famous for her pioneer role as a female performance artist but also for video and photography. Phyu Mon has founded Blue-Wind, an independent non-profit association which is dedicated to women artists.
NANN NANN
Born in 1974, Nann Nann graduated in sculpture from Yangon University of Culture. Daughter of two traditional artists and art teachers, Nann Nann broke out of her parent's conservative styles and went on to innovative use of traditional components and daring abstract designs both in marble sculptures and large canvases in acrylic. She is one of the few woman sculptors of Myanmar and certainly one of the strongest artists. She has extensively exhibited in Myanmar and abroad.