FCA Singapore March Cocktails & Networking Party TONIGHT (Thursday). Welcome our special guest and former FCA member, REG CHUA, who's now Assistant Managing Editor of The Wall Street Journal in New York.
20 Mar 2008
Indochine Forbidden City (The Bamboo Bar outside) @ Clark Quay
3A Merchant's Court, River Valley Road, #01-02, Singapore.
1830-2100
Free Admission. No need to register.

Free finger food compliments of Indochine.
$8/glass wine or beer*
$4/soft drinks*

* Drink coupons sold @ the bar to FCA members, in sets of 2 drinks each.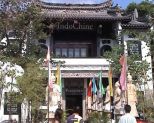 This event is for Members only.
About our special guest Reginald Chua who's in Singapore this week for a brief visit:
Reg was a member of the FCA Singapore in the late 1980's when he was working here in at Reuters.
Since 2005, Reg Chua has been an Assistant Managing Editor at The Wall
Street Journal in New York - which recently became part of Rupert Murdoch's media
empire, immediately prompting questions about the future direction of
one of the world's most influential newspapers.
Chua moved to the paper's headquarters in New York after eight years in Hong Kong as
Editor of the Journal's Asian edition and stints as a reporter in Manila
and Hanoi. A Singaporean, he has also been a journalist with The Straits
Times, Reuters' Singapore bureau and what used to be called the
Singapore Broadcasting Corporation.