Annual General Meeting
30 Jun 2008
The Geek Terminal

Address: 55 Market Street
Singapore 048941
Nearest Carpark: Golden Shoe Carpark
Nearest MRT: Raffles Place MRT
Tel No: +65 65570098
1900-2100
Free - For FCA members only.
Food and drinks will be provided.

PLEASE REGISTER TODAY - so we know you're coming.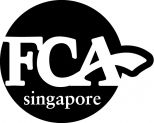 This event is for Members only.
This is our most important meeting of the year to elect new FCA officers and Executive Committee members, ask questions & offer your suggestions to make the FCA what you want it to be.

REMEMBER:
ALL ORDINARY AND ASSOCIATE FCA MEMBERS ARE WELCOME.
As stated in our bylaws, only Ordinary Members have voting rights.
We need a quorum to hold the meeting.
Ordinary members who cannot attend may give their proxy to another Ordinary member who IS attending.
You should have received a packet in the mail with important AGM material.

About the Geek Terminal:

Located in the heart of Business District in Singapore, Geek Terminal is built specifically for the business travelers and mobile business executives looking for a place to meet, enjoy a great cup of illy coffee, work on their laptop.

www.geekterminal.com