"Asia-Europe Meeting (ASEM) 7: Partner's Forum" - Media Briefing
15 Oct 2008
Shangri-la Hotel, Singapore.
Green Lily Room.
Refreshments served.
1445-1630
Free.
RSVP directly to:
Luenne Choa
Press & Information Officer
Delegation of the European Commission to Singapore
Tel: +65-6336 7919 Mob: +65-9694 9110
Email: luenne.choa@ec.europa.eu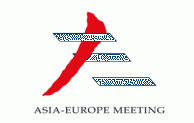 This event is for Members only.
As a preview to the coming (Asia-Europe Meeting) ASEM 7 Summit - the FCA, French Embassy and the Delegation of the European Commission to Singapore will host the "ASEM 7: Partner's Forum" media briefing, this Wednesday, 15 October in Singapore.
This event will give you background on the ASEM Process and what is expected from the Summit.

Who : FCA Members and others interested in the ASEM Summit.
What: Briefing on ASEM & the coming ASEM 7 Summit.
When: Wednesday, 15 October 2008. 1445 hrs to 1630 hrs (refreshments served).
Where: Shangri-la Hotel, Green Lily Room.



RSVP directly to:


Luenne Choa
Press & Information Officer
Delegation of the European Commission to Singapore
Tel: +65-6336 7919 Mob: +65-9694 9110
Email: luenne.choa@ec.europa.eu


Info on the ASEM 7 Summit:


This year's Asia-Europe Meeting (ASEM) Summit that will be held in Beijing from 24th- 25th October 2008. The Summit will be the largest-ever gathering of leaders from Europe and Asia; a total of 44 countries (including 27 Europeans) plus the ASEAN Secretariat and the European Commission will be represented at the highest level at the Chinese capital.

It's an important Summit for the ASEM process: in 2006 (10 years after ASEM was inaugurated) the Helsinki Meeting provided leaders an opportunity to evaluate their achievements and to discuss their milestones. It also sets a framework of working methods and institutional mechanisms. In light of the recent economic turmoil around the world,

Beijing will provide an opportunity to assess how these mechanisms are working and to appraise the reports that will be submitted to the Summit. More about ASEM:

The Asia-Europe Meeting (ASEM) is an informal process of dialogue and co-operation bringing together 10 Asian nations (Brunei Darussalam, China, Indonesia, Japan, Republic of Korea, Malaysia, the Philippines, Singapore, Thailand and Vietnam), the 27 EU Member States and the European Commission. These meetings are aimed at strengthening political, economic and cultural relations between Asia and Europe.

The activities carried out under the Economic Pillar reinforce the economic relations between the two regions to

promote greater economic growth and development by encouraging greater trade and investment between the two regions through trade and investment liberalisation and facilitation amongst the participating countries.

In addition, Asian and European business and private sectors are able to strengthen their co-operation through

increased contact, joint ventures and transfer of technology.