Lunch with Datuk Seri Anwar Ibrahim
25 May 2009
Forlino, One Fullerton, #02-06
(Just facing the Merlion, but the escalator to go on second floor is across the passage way coming from the Fullerton Hotel)
12:30pm SHARP
$50 for FCA members;
$70 for non-FCA members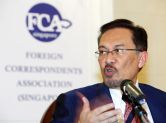 NEARLY SOLD OUT!
The Foreign Correspondents Association is pleased to host Malaysia's opposition leader Anwar Ibrahim, 62.
Though he led the opposition to unprecedented gains at last year's general elections where the opposition alliance gained control of five states, the alliance lost back one state - Perak - in early May to the ruling party.
Mr Anwar will discuss the political and economic situation in Malaysia, and how the opposition alliance is taking on the leadership of new Prime Minister Najib Tun Razak and the ruling Barisan Nasional coalition.
AS USUAL, REGISTRATION BY PRE-PAYMENT ONLY.