FCA Morning Talk: Author Barry Wain
05 Mar 2010
Special Use Room, Level 5, Li Ka Shing Library, Singapore Management University.
8:30 - 9:30 SHARP
free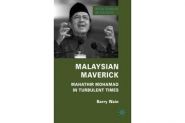 This event is for Members only.
Malaysian Maverick: Mahathir Mohamad in Turbulent Times, by Barry Wain, published by Palgrave Macmillan in the UK.

The grandson of an Indian immigrant and the first Malay commoner to become prime minister of Malaysia, Mahathir Mohamad turned the Muslim-majority country into one of the devleoping world's most successful economies. During his 22 years in power, he adopted pragmatic economic policies alongside repressive political measures, and showed that Islam was compatible with representative government and modernization. But in mixing business and politics, the book argues, Mahathir encouraged cronyism and failed to prevent the spread of corruption. Authoritarian and impatient, he jailed opponents, sacked rivals and undermined institutions as he pursued his obsession with development.

The book, published in December, has been for the last six weeks in the UK Sunday Times best seller non-fiction list. It is still no allowed for distribution in Malaysia.
Barry Wain is Writer-in-Residence at the Institute of Southeast Asian Studies in Singapore. A former Editor of the the Asian Wall Street Journal, he has lived in Asia for 38 years, working as a journalist, columnist, and news executive in Hong Kong, Malaysia, Thailand, and Singapore.
Deadline for registration: Wednesday Mar 3