FCA Museum Tour - City Hall and Supreme Court
08 Oct 2010
National Art Gallery; details of meeting location will be provided closer to time
8.45-10.30 am
NIL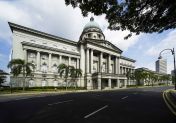 This event is for Members only.
The National Art Gallery is opening the premises of the two historic buildings - City Hall and former Supreme Court buildings - to the general public for final viewing in October before it is transformed into The National Art Gallery, Singapore.
FCA members are invited for exclusive guided tour of the buildings, which offer a rare glimpse into the buildings' unusual spaces, and offer a better understanding of its colourful history. More details of the open house can be found here: www.nationalartgallery.sg/openhouse
Program
8.45am Registration
9:00am Guided history tour by building history curator, Lim Shujuan
10:00am Tour ends in Orientation Space in City Hall Level 1
Tea reception and short briefing on The National Art Gallery project and its development will follow.
If interested, please register by Oct 6.