FCA DRINKS
09 Oct 2012
B28, Basement No. 28 Ann Siang Road, The Club Hotel, Singapore 069708 (Tel +65 9026 3466)
7pm (Sharp)
BYO Drink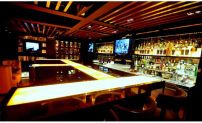 This event is for Members only.
Dear FCA Members
It's finally happening! FCA drinks session is back ... and with a vengeance!
To start off on a brand 'mix', there will be a half-hour talk about the Gurkhas by Mr Zakaria Zainal, a young Singaporean photographer, who has been to Nepal to meet the Gurkhas and published a book about them which is the first work ever on the 'invisibly visible minority'. If you are unaware, these Nepalese guys guard Lee Kuan Yew's residence and work on the high security events which take place in Singapore (e.g. APEC etc).
If you can't wait to know more about Zakaria's photo report, you may download the media kit at https://dl.dropbox.com/u/11632062/Epigram/OurGurkhas-Media-Kit.zip or read more about it at https://www.facebook.com/gurkhas.sg/info
Drinks will follow thereafter.
The venue, B28 - a small but intimate underground bar with the coolest of music and drinks. So, take out the keyboard and start registering your attendance with the Secretariat now!
Btw, did you know that Gurkhas usually enroll themselves in the Singaporean police for 20 years before being flown back to Kathmandu with their families?