FCA Lunch with Minister for Foreign Affairs and Minister for Law, K. Shanmugam
28 Mar 2014

Shangri-La Hotel

22 Orange Grove Road

Singapore 258350
12 – 3 pm (registration begins at 11:30 am)

$80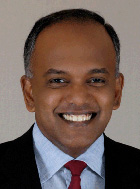 This event is for Members only.
The FCA is pleased to host Minister for Foreign Affairs and Minister for Law, K. Shanmugam at a luncheon on Mar 28 at the Shangri-La Hotel.
The Minister will take your questions on the record during what we hope will be a very interactive Q&A session.
Mr Shanmugam became a Member of Parliament (MP) in 1988 and served as such while continuing to practice law until 2008, when he was brought into the Cabinet to replace S. Jayakumar as Minister for Law. He was concurrently made the Second Minister for Home Affairs in 2008, and succeeded Wong Kan Seng as Minister for Home Affairs in 2010. Following the last general election in 2011, Mr. Shanmugam was made the Minister for Foreign Affairs, while continuing to serve as Minister for Law.
Dress Code: Business
Note: If you had expressed interest in this event when we emailed you earlier this month, please do remember to log in again to the FCA website to register for it.