IPRS-FCA Forum 2016
12 Oct 2016

Copthorne King's Hotel
Marquis room
403 Havelock Road
Singapore 169632

11:30am - 2:00pm (Registration 11:15am)

FCA Members $60 nett and Non-Members $90 nett
(Non-Members & Guests please email secretariat@fcasingapore.com to register)

Kindly note that seats will be allocated on a first-come, first-served basis.

Payment must be made by bank transfer to DBS 0220047892 by 4 Oct 2016.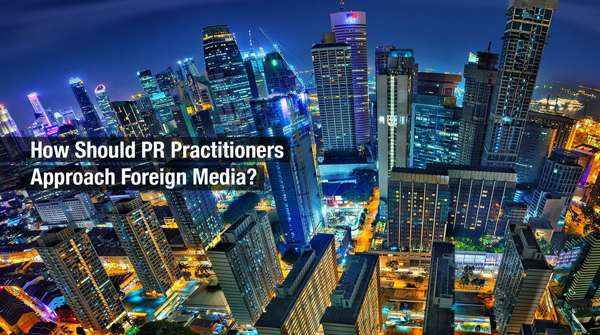 Liz Corbin was unable to attend because, as we know from working with the media, there are always surprises, and on the morning of this event, Liz got a surprise of her own.
Illka Gobius replaced Liz on the panel and brought her perspectives, as a practitioner, of working day to day with the foreign media.
Illka Gobius is the Managing Director of PINPOINT PR and an executive committee member of the Foreign Correspondents Association. She is an experienced PR practitioner with the foreign press and whose agency generates over USD1m in earned media each month from foreign press coverage for one customer alone. Illka and her agency attain media coverage for their clients across all mediums, including radio, television, wires, online media and with trade press, often within a single day. She covers PR for the financial markets, technology, health care, travel, tourism, hospitality and events.

-----Original Message-----
How should PR Practitioners Approach Foreign Media in Singapore?
Jointly hosted by the FCA and the Institute of Public Relations Singapore (IPRS), the IPRS-FCA Forum 2016 will present a panel of Bureau Chiefs who will discuss what they look for in terms of content and spokespersons.
Professor Gregor Halff will moderate the panel which will include Liz Corbin, Bureau Chief of BBC in Singapore; and Manfred Rist, Bureau Chief of Neue Zürcher Zeitung in Singapore.
Sign up for this networking luncheon to learn, in an open dialogue forum, how PR practitioners can better garner coverage in the foreign media.
Panelists:
Liz Corbin has been the Singapore Bureau Chief, BBC News since 2013. A career veteran with the BBC, she has held roles as Assistant Editor, BBC World News; Assistant Editor, BBC World News America & GMT with George Alagiah; Senior Broadcast Journalist, BBC News at Six & Ten O'Clock News; Guest Producer, BBC One's General Election Programme; Senior Broadcast Journalist, BBC Breakfast; Senior Broadcast Journalist, BBC News 24; Broadcast Journalist, BBC Look North (NE & Cumbria); and as Trainee, BBC regional Journalist Trainee Scheme.
Manfred Rist is the Bureau Chief and South East Asia correspondent of Neue Zürcher Zeitung, a Swiss newspaper. He also teaches modules in journalism at a local university in Singapore. Initially a part of Nielsen SA, a market research company, Manfred contributes in the business section of the NZZ, with support reporting on news and issues relating to business, technology and current events. Previously based in Paris, he was the NZZ correspondent to the European Union and NATO in Brussels since 1990, and was then assigned in Singapore as South East Asia correspondent in 2000, tackling business and politics in Asia, and specialising in Multimedia Digital Storytelling.
Moderator:
Professor Gregor Halff is Professor of Corporate Communication Practice and Deputy Dean of the Lee Kong Chian School of Business at Singapore Management University. He is the Chair of the Global Alliance for Public Relations and Communication Management.