Can Financial Technology Spark an Economic Development Revolution? – A Luncheon Presentation
14 Nov 2016

LATTICE80 Fintech Hub
80 Robinson Road
#08-01
Singapore 068898

12:00 pm
Complimentary to FCA members, but space is limited – registration deadline has been extended to Saturday 12 Nov 2016.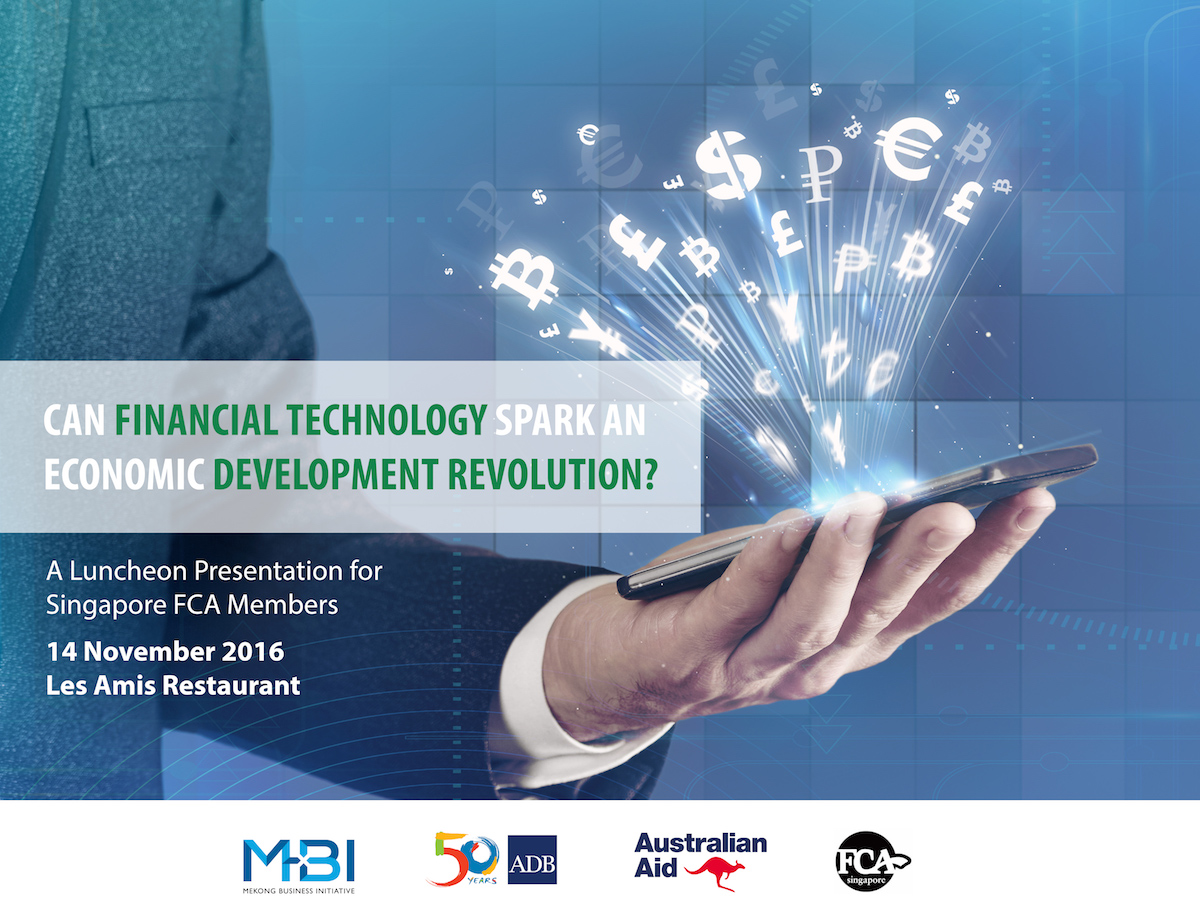 This event is for Members only.
Thank you to those who have signed up.
We have a unique opportunity to visit and tour the recently-opened LATTICE80, the largest fintech hub in the world. Consequently, the venue for this luncheon event has changed and the registration deadline has been extended to Saturday 12 November 2016. Don't miss this chance to hear about gamechanger technology from the experts, in one of its global hotspots.
Details as follows:
LATTICE80 Fintech Hub
#08-01, 80 Robinson Road
Singapore 068898
14 Nov 2016 (Mon)
12:00 pm
Buffet lunch provided
Complimentary to FCA members, but space is limited.

----------Description----------
As anodyne as it sounds, financial technology might be the biggest thing to hit socioeconomic development since the cellular phone. Fintech allows economies to leapfrog decades of investment in banking infrastructure. It removes friction from lending, investing, payments and remittances. It channels money into innovation and startups faster and in greater quantities than ever before.
Singapore, an emerging hub for fintech ventures, will host the Singapore Fintech Festival on 14-18 November 2016. A week later, the Asian Development Bank (ADB) will convene policymakers from Asia's developing economies for a bootcamp on fintech regulation. Take advantage of this well-timed opportunity for you to learn more about a topic of accelerating regional importance.
The Asian Development Bank's Mekong Business Initiative invites FCA members to a luncheon presentation on this hot topic. All costs of the luncheon are underwritten by the generous support of the Vietnam Private Sector Forum.
The presenters will be Roger Thomas Moyes, Project Director & Senior Access to Finance Advisor, the Mekong Business Initiative of the Asian Development Bank; and Tobias Fischer, Director of Corporate Development, Capital Match.