ASEF Panel Discussion: "Asia & Europe: the Dawning of a New Era?"
08 Jun 2017

National University of Singapore (NUS) Bukit Timah Campus
469G Bukit Timah Road
Faculty of Law
Auditorium, Level 3, Block B
Singapore 259776

4-6pm
Nil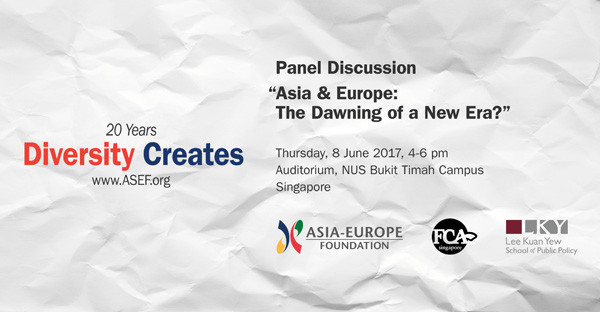 On the occasion of the 20th Anniversary of the Asia-Europe Foundation (ASEF) and on the side lines of the 36th ASEF Board of Governors' Meeting, ASEF is organising, together with the Foreign Correspondents Association Singapore (FCA) and the Lee Kuan Yew School of Public Policy (LKYSPP), a Panel Discussion on the state and future of Asian-European relations.
SYNOPSIS
US President Donald Trump has called into question major general geo-political issues such as globalisation, the post-Cold War balance of powers and free trade. He challenged America's traditional political, security and economic relations both with Asia and with Europe: the bilateral US-Asian alliances, NATO, the Trans-Pacific Partnership (TPP) and the Transatlantic Trade and Investment Partnership (TTIP).
This is forcing Asian and European countries to not only reassess their respective relationships with the United States, but also rethink their own regional and global positions and roles. While these changes in the international environment are posing new challenges, they may also offer opportunities for Asians and Europeans to reflect within their respective regions, to take a fresh look at each other, and to adjust or even reinvent their relationships.
The Panel will be discussing the issues pertinent to the Asian-European relationship in the changing international environment, and possible implications for the Asia-Europe Meeting (ASEM) process and the Asia-Europe Foundation (ASEF).
Keynote Speaker
Prof Kishore MAHBUBANI
Dean, Lee Kuan Yew School of Public Policy (LKYSPP)
Moderator
Ms Sharanjit LEYL
Presenter & Producer, British Broadcasting Corporation (BBC)
President, Foreign Correspondents Association (FCA) (Singapore)
Panellists
Ambassador-at-Large, Prof Tommy KOH
Ministry of Foreign Affairs, Singapore
Prof Dr Helmut HAUSSMANN
ASEF Governor from Germany since 1997
Vice President, Capgemini Deutschland Holding GmbH
Former German Federal Minister of Economics
Dr KIM Gwang-jo
Director, UNESCO Asia & Pacific Regional Bureau of Education
Prof Beatrice WEDER DI MAURO
Professor of Economics, University of Mainz, Germany
Distinguished Fellow-in-residence Emerging Markets Institute, INSEAD Singapore
Ms Hillary BRIFFA
Doctoral Candidate & Graduate Teaching Assistant, King's College, London