The Lifespan of a Fact (SRT)
10 Mar 2020

KC Arts Centre – Home of SRT
20 Merbau Road
Singapore 239035

8pm
15% Discount (Cat 1 & 2 tickets on 10, 11, 12 March 2020)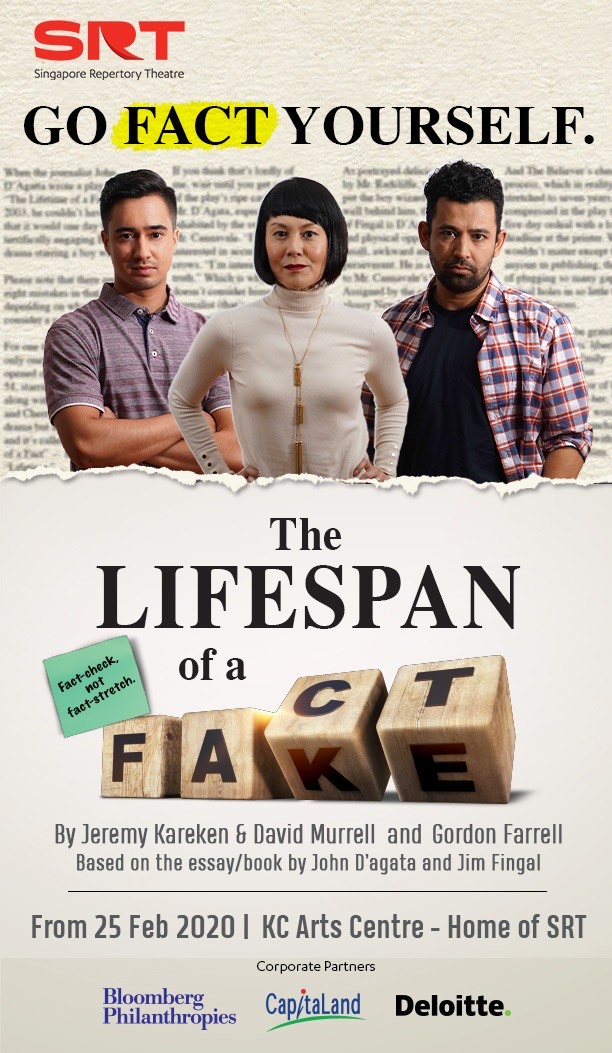 SRT is offering an exclusive 15% discount for FCA members for The Lifespan of a Fact, a smash hit on Broadway and hailed by The New York Times as "terrifically engaging," and The Wall Street Journal as "a smart, rib-bustingly funny play". This fast-moving, provocative play, heavily laced with timely humour, is the ultimate showdown of fact versus fiction.
Jim Fingal is a fresh-out-of-Harvard fact checker for a prominent but sinking New York magazine. John D'Agata is a talented writer with a transcendent essay about the suicide of a teenage boy—an essay that could save the magazine from collapse. When Jim is assigned to fact check D'Agata's essay, the two come head to head in a comedic yet gripping battle over facts versus truth.
Featuring Ghafir Akbar (Shakespeare in the Park – Julius Caesar and Guards at the Taj), Janice Koh (Hand to God) and Jamil Schulze.
The 15% discount is valid for Cat 1 & 2 tickets for the 8pm performances on 10, 11, and 12 March 2020. Click on this link to book your ticket: https://ticketing.srt.com.sg/srt/booking/tlf0220?promocode=FCA